About us
Technology, quality, experience, sustainability and Just in Time delivery: these are the advantages of EuroMouldings. We are happy to tell you more about our strengths.
Technology
Already over 30 years experience in producing packaging through the so-called 'extrusion blow moulding'. Indeed, we 'blow' packaging. Some technical spearheads:
42 machines that produce single, double or quadruple;
For bottles, jerry cans and technical items;
Possible to produce for a capacity of 100 ml up to and including 30 liters;
A central piping system provides the machines with raw material in granulate form, possibly provided with colorant or other additive;
How extrusion blow moulding works
An extruder heats the granulate to create a liquid;
The liquid mass is blown into the desired shape in a mould and cooled;
After passing leakage tests, the packages are removed and packed automatically;
We use modular moulds to optimise machine fleet use and maximise flexibility;
The moulds can always be used on multiple machines to safeguard production continuity.
History
Ten Cate Mouldings
The development department TtC Mouldings, Thiokol-ten Cate Mouldings, was established in Oldenzaal in 1977. TtC Mouldings was a joint venture between the American company Thiokol and the Royal Nijverdal-Ten Cate Groep. It was also the first Ten Cate company to take the step from an entire or partial textile factory to full plastic processing. Together with Royal Dutch Shell, they looked for a solution to modify polypropylene, a chemical-industry byproduct. The aim was to make this product usable for blow moulding of plastic containers. It was pioneering work as other companies were producing plastic products from standard Polyethylene and PVC. The name changed to Ten Cate Mouldings in 1990. This company mainly specialised in producing jerry cans.
Polymij
The company Polymij Kunststoffen BV was established at Euromouldings's current registered address in 1980. Extrusion blowing, co-extrusion blowing, regranulation, screen printing and therimage: Polymij already offered all these. The company was well ahead of its time. Over Polymij's seventeen-year history, it has built a sound reputation in reprocessing polypropylene and polyethylene waste. This specialism is standard practice at plastic processors these days. What started as a way of usefully reprocessing our own 'waste' and byproducts has now become the norm in the context of sustainability. Polymij specialised in bottle blowing with volumes varying from 100 ml to 5 L and was particularly strong in the lubricant industry. Screen printing and therimage enabled the company to deliver a total product.
Euro BV
Euro BV was founded in 1995 in Vroomshoop and was a subsidiary of Aufderhaar Kunststof Groep (AKG), currently known as Veolia. Euro BV specialised in blowing plastic food and non-food packaging with volumes ranging from 100 ml to 5 L. The company also responded to demand for new products where extrusion blowing could play an important role. Customising products for clients was standard. It all started, as is still the case, with the design of the products, all of which took place in-house. Contributing ideas and knowledge of the total design and production process was Euro BV's key added value. This advantage only increased over the years.
Euro Mouldings BV
Euro BV acquired Polymij in 1997 and moved its production activities from Vroomshoop to the Polymij building. This doubled the machine fleet and enabled the company's further expansion. In 1999, Euro continued as an independent organisation. Ten Cate Mouldings was acquired in mid-1999 and was integrated at the Nijverdal location. The holding Euro Mouldings BV became reality. Many years' experience of various segments and products converged here. For the first time, Euro Mouldings was able to offer its clients a total package, with products from 100 ml to 30 L.
Euro Mouldings
The Euro BV and Ten Cate Mouldings logos were merged in 1999 for better market presentation. After several years, Euro Mouldings became a household name as total supplier and was no longer seen as just a bottle or jerry can producer. In 2007 it was time to carry this feeling through to our logo.
EuroMouldings part of AST
In 2018 and under AST's management, we decided to become one of the leading producers of blown plastic packaging in Europe. AST is a market leader in the production of UN-certified plastic jerry cans and containers. As family company, AST can reflect on 40 years' experience in blowing plastics. As well as its head office in Erndtebrück, it opened many new premises in Europe in recent years. EuroMouldings's technical know-how accumulated over the years and its excellent reputation were decisive factors for AST in making this choice. The joint goal is to be able to advise and supply clients with a complete range of products from 250 ml to 220 litres. AST is mainly a jerry can and container producer but with EuroMouldings have now added bottles to their product range.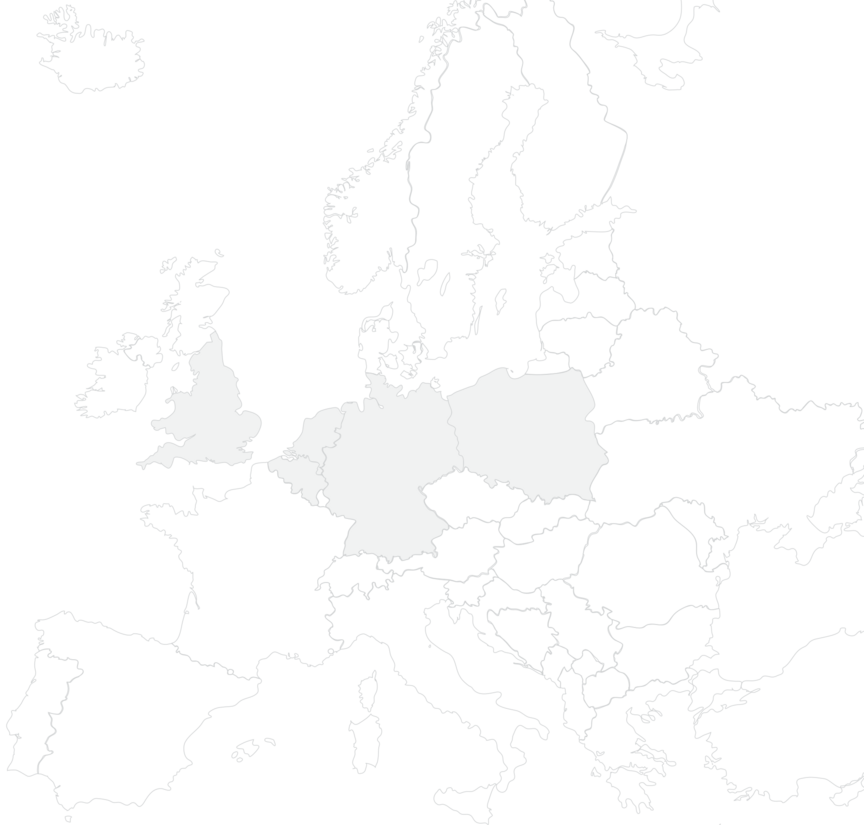 Cleaning Twente / SenS Interclean, Hengelo
Joh. Sieben GmbH, Heinsberg
Our clients are seeking a packaging supplier than can adapt to unpredictable market fluctuations. We are that supplier and are a real partner for our clients. Our priorities are quality, speed of delivery, close cooperation and the drive for continuous improvement. Our employees can rely on each other and are ready to help each other.
Sustainability
We are conscious of the positive contribution we can make to our environment by making our production process and the products we deliver more sustainable. We employ a variety of methods aimed at achieving this. Our sustainability policy therefore includes, among other things, energy savings, reconditioning and cradle-to-cradle production.
Read more
Just in Time delivery
You want to manage your warehouse space as efficiently as possible. We can therefore keep your products in stock and deliver them when you need them. You can opt for production and delivery to order, but also for daily Just in Time deliveries, using swap trailers. We will consult with you to discuss forecasts to ensure optimal production planning.
Read more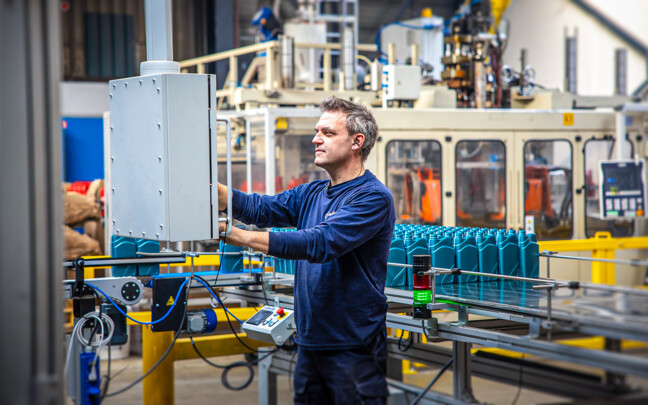 Quality
Speed and accuracy are essential for your highly automated filling processes. We help you to prevent product errors and to pursue 'zero defects'. We are working hard to guarantee the high quality we offer you in the future. That is why we continuously invest in online measurement systems and training courses. EuroMouldings is certified as a training company by PLMF for the training of operators according to the VAPRO method.
View our ISO certificate
View our SBB certificate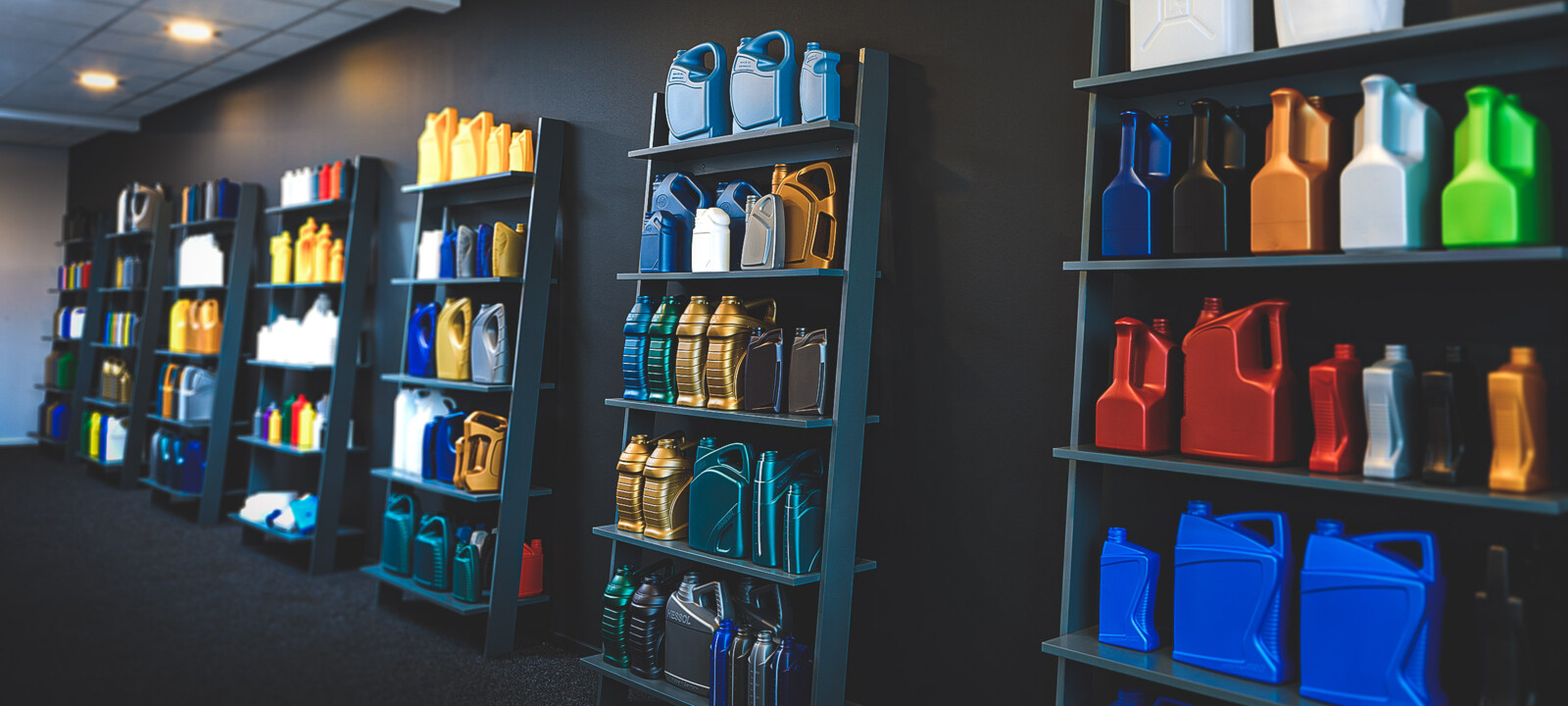 View our range
The EuroMouldings bottles and jerry cans all have their own advantages. See which product family best suits your needs.
View